Nursery
Maypop Hill Nursery specializes in native plants of the Southeast US,

as well as a few fruit and vegetable plants that grow well in the humid South.

We sell our plants at the nursery and local community markets.
Contact us directly to ensure that we will be present at home or at venues.

Several times a year we attend garden shows in South Louisiana.
Check our booths and events, which are listed in the newsletter, also available by subscription.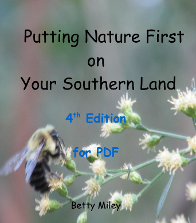 Public Presentations
(information pages available on request)

Gardening for Birds Wild About Wildflowers Planting for Pollinators Field Trips around Baton RougeNative Know-How for Southern Ecogardeners
(below)
To view the free slideshow or

present to an audience,
click on the arrow button
to enlarge the slides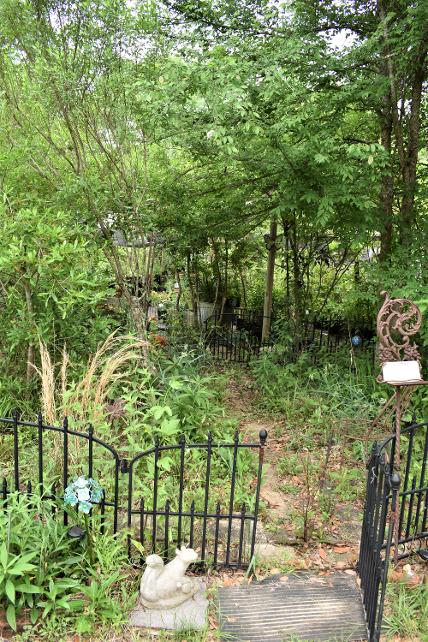 NURSERY
Visitors are welcome to the nursery and to see our our ideas about good land use, as opposed to landscaping.
While we are usually at home,

it is best to email or call to make sure someone will be on hand.
We have many native plants on the property, either those species which are native to Louisiana or to other Southern states.
No manicured lawns here, just lots of trees large and small,
wildflowers, a prairie driveway, and edibles (fruit and vegetables).
We try to use permaculture practices and current trends that benefit the environment as well as our own desires to grow food.

No online sales, only pick up at nursery or plant shows.
Email us at maypophill@gmail.com to to request a pdf file listing of native plants, sizes, prices
Numbers are limited and we do sell out of desirable species.

TREES AND SHRUBS

common - oak, maple, black cherry, others
and uncommon - basswood, titi, doghobble/Leucothoe, ironwood, hop-tree, native azaleas, native plums, huckleberry, pawpaw, Carolina Buckthorn, silver-bell, others
SEASONAL INTEREST

vines: Coral honeysuckle, American wisteria, crossvine,passionflower/maypop, Trailing Arbutus,groundnut, native Clematis, Woolly Dutchman's Pipe, others

wildflowers: Louisiana irises, wild indigo/Baptisia, milkweeds, Mountain Mint and other mints, Stokes Aster, Barbara's Buttons, purple coneflower/Echinacea, yellow coneflowers/Rudbeckia, goldenrod, Blazing Star/Liatris, tickseed/Coreopsis, native Phlox, Pitcher plant, sunflower/Helianthus, Rattlesnake Master, Ironweed, mallow/Hibiscus, Turk's Cap Mallow

ferns and native grasses: Christmas fern Southern Shield fern, Sensitive fern, Dixie woods fern, others

bluestem grasses, sea oats, gamagrass, rushes, sedges, others